Here Fran! (and others who may be interested) Forgive any or all inconsistencies/misspellings etc.
*WARNING, WILL BE VERY LONG*
It starts off with a woman praying to Gia (a lesser used spelling I get yelled at for using). She prays for a friend/boy-friend. At that moment we meet Cassius, getting grilled by someone on his job to be the princess's body guard. Finally, he goes into her room. The woman (Tina) from the beginning is the princess (of the Elfs , again lesser used technically correct spelling). They make eye contact, they both seem to like what they see. She jumps to give him a friendly hug but accidentally pushes him over and she falls on him. Her main adviser (Shia) walks in to give her a letter and gets the wrong impression of why they were laying together the way they were. After talking it out Shia's like "whatever" and leaves. Tina gives Cassius a list of stuff to get (the only thing we see is her wears and short cape after this scene), and to come back for dinner.
He comes back (with a short cape now XD) and realizes they're alone. he gets nervous and finds out that she does all of her cleaning/cooking/washing/clothing herself. She feels that she's not really special and doesn't deserve to lead anyway. So then they say good night.
The next day she gives him a tour of the castle, and shows him her secret place, a waterfall under the castle. The day after that Cassius decides to take her to a stream in the forest outside the castle. They reminisce and talk about when they were teens (they're in their 20's now). We see how Cassius's first job was delivering mail between castles and villages and stuff with two other people, Luna (his girl-friend at the time), and Jem (a friend). They all trained at the same fencing/sword-play academy. One day Cassius (and co.) were at Bel-Terre (name of the Elf capital castle), and early in the morning Zane (kind of the Dark Elfs) walked by Cassius in the hall. Cassius watched him go into the King and Queens room. He heard struggling screams and arguing. "You LIAR!!!!" Zane said. More screams. "WHERE IS SHE!!!???" Zane screamed. Cassius then saw Zane come out of the room with a bloody knife. "(Oh no! He killed the king and queen! Now he's after the Princess!)" Running towards Zane he screamed "GET AWAY FROM HER!!!!!!" He tackled Zane, and by that time Luna showed up. Zane shoots a fireball spell at Cassius. Cassius dodged it but it hit Luna in the face. Cassius then got into a fist fight with Zane which ended with Cassius getting thrown out a window. We see now that Tina watched as Zane took Luna and ran out. She then ran to get Cassius who luckily hit many things on his way down and is merely knocked out. The next day Cassius was gone when Tina went to check on him. But she couldn't worry, the Elfs were holding a trial on Zane. Tina cunningly tricks him into describing his knife. "I found this in the hallway, it's your knife!" "No, mine is curved and has a ruby set in it." "Like this?" Pulling the real knife out of her pocket. He went on a tirade. Babbling about how he is right and that they will never understand that the king and queen were in the wrong. and then storms out. Over the next day it's decided that even though Tina is underage she's to be queen(usually the dark elf king/queen would take over until the heir is old enough but obviously that's not a good idea here). Then Cassius jumped through the door and yells "The dark elf army is attacking Saphira!" (Saphira is the human capital castle/city). The flash back ends with Tina sighing "Jump ten years and were now".
Okay... I'm only 1/3rd through so I'm going to be a bit briefer now.
It seems Zana is stalking them. Zana is Luna, Zane is keeping her alive with black magic. Cassius and Tina exchange flirts. They are about to kiss but here Zana in the bushes and head home.
The next day Shia yells at Tina for being "too friendly" to a --- Human. Tina herself is human on her mothers side and takes great offense. It's implied that Shia is always very racist sexist as are all elfs. Her and Cassius go for a walk and talk except by now it's getting later in the year and quite cold. So they decide to go in but then Zana leaps out and attacks them Cassius fends of Zana and she retreats and they head home.
Next time we see them we see Cassius pulling some string on Tina's corset and them talking/moaning in pain. Basically, Tina being ½ human isn't as tall and thin as most elfs so she tries to look thin to seem more elfy and hopefully not be picked on by her piers. Today she's meeting with some people (though I don't know who). Once again Shia and the other elfs are very prejudice and beat her down and insult her. Finally she loses it and yells back, which Shia answers with a hard slap. Cassius then steps in and calls them "blood cloths" A.K.A. D- bags. The elfs leave and Tina cries for a while. Finally, since it's then end of the day they go back to her room and while he helps off her corset she explains elfin religion. In short, women are not to talk back to men, women are not to like woohooing - only the idea of getting pregnant, and that reproduction is upon which everything revolves. Cassius basically says that's friggin' dumb. Girls and Guys are equal. Where one lacks the other makes up and so on. Holding her corset to cover her chest she says goodnight to Cassius and then letting ti drop (eve hair censorship) you see the bruises on her ribs and all. She then prays because she's torn. Obviously Cassius seems right, but how could she turn her back on everything she's always believed?
Next we see Cassius and Tina he asks if she could read the elf holy book for him. It's in elfish and he's not fluent in it. So she does. After reading the highlights she concludes, "Gia is in everything, Gia is everything. Gia is our mother. She longs for more life, that's why sex is so important to us." "yeah but... Just because Gia needed Seed to impregnate her shouldn't mean that guys can tell you what to do." "All that is couldn't be if Gia didn't have him. Without men women are useless." "But... Isn't the reverse true?" "Hmmm?.... maybe..." "I'd say men and women are useless without each other. But one isn't more important than the other." (long silence) Then Tina says "Well... I gotta go, Those guys still want to discuss stuff with me since last time kinda flopped, as you know." "oh... Okay, see ya."
[later...] "Excuse me Tina, may I come in?" Cassius asks. "Sure!" said Tina. "Before we begin", Cassius announced, "I'd like to remind you all of the rule that you MUST speak in the common language". "Yeah Shia, if he's here we all need to not speak elfish." said Tina. Shia quivering with anger sat down. And they had a productive day. Last time they were speaking in elfish so he didn't know what was going on, he only reacted when she was slapped
Finally one nice spring day the 2 are out walking in the forest talking about Zane and dark elfs in general, when Zana once again attacks them, Tina uses her magic on Cassius's sword to power it up. He the swings it as hard as possible and cracks Zana's armor and then she runs off again. Cassius asks what is with the armor? Why is it so hard? Why does Zana never die? Tina explains that Zana can use his black spells to create "soul plating" which holds the spirit in the body. Tina then explains that Zane is living in an old observation post that's actually within the Bel-Terren boarders. Zana stays there too. Obviously, that means the war ain't going so great.
Then it cuts to Zane and Zana, fixing her armor and chatting. Zana says, "sounds like our dear little Tina's fallen in love. Well, she must be in her 20's." " 22 actually" "It's a shame... I wasn't there to see her grow up..."
Some time later Tina and Cassius are playing chess and Tina expresses her want to fend for her self a bit against Zana. Not that she doesn't want Cassius as a body guard, she wants to help and he doesn't want her to be in that much danger. So we find out that 5 years ago while Cassius was on the "front lines" Jem was Tina's guard. And that they had feelings for each other. Sadly one day Zana was there and Jem wouldn't let Tina help. He got his face cleaved off. Zana then calmly turned and ran. Tina's afraid that the same could happen to Cassius, that she won't help and he'll die because of it. Cassius concedes her point but still holds his ground.
Next we find that the Elfin city Silken is under heavy siege, Tina convinces Cassius to take her their so they can help, so they go. They talk a bit on their way there, Cassius has this girl (Lilias) who has an aggressive crush on him, bla bla bla... We see Tina sitting "Princess Liea" style in her sleepwear, bla bla bla... Zane sends Zana to Silken, bla bla bla. They get there, they meet up with Titus, a great military leader whose like "WTF did you bring her here you stupid B*******?!". Tina explains. He then gives them some ally way to guard. Tina get's bored and looks around. Finding a troll, she leaps out to attack it, realizing how big and naked they are. As she's about to be eaten in one bite Cassius cleaves it's head open. He's like "DON'T RUN OFF!!!!" She's like,"K", and then runs off to fight more. Cassius is bewildered. [fight montage] bla bla bla Zana shows up and has her throat slit and runs off. NEXT DAY! They're all okay, Titus fells indebted to Tina for her healing the wounded, BLA BLA BLA! They leave.
On their way home it begins to rain, Tina's worried because she use her undershirt as bandages for the soldiers and being late summer, the rain can be quite cold. Cassius is worried she'll get sick, Tina is afraid of transparency. ** SQUEEZE!!!*** Cassius," AHH!! Oh (god) Lilias, it's you..." "hi!" Tina say's hi. Lilias thinks Tina is a prostitute because her shirt leaves little to the imagination, Tina get's embarrassed, and Cassius is like, "WHAT DO YOU WANT!?" "Lilias is like "YOUR C-" Cassius censors her slang with "AHHH!!!" as she jumps on him. Unbuckling his belt and "moving" she begins to say
Tina and Cassius run, get back home, Tina's feet are hurting so her carries her to her bed, she offers herself to him, he like "I'd like to, but I'm not gonna let you waste yourself on me." "don't you want to?" "well heck I WANT to, but... That's just it, it's a want, not a right, and whether with each other or people we haven't met yet... we won't have to worry, or feel any guilt because it'll be right. You know what I mean?" "I guess.... Good-night... My knight..." "good night" Tina thinks to herself "(Wow, most guys would've been on me like flies on crap without even making sure that's what I said. He has... such strength. I admire his strength, and.. well desire it in him. And he doesn't think me a sleaze for asking... Blood to what Shia said, I DO love him, I care what people think... )" falls asleep.
The next day Tina's slept in and Cassius checks on her she says he can have the day off, she just wants to rest. Cassius then is like "okay, whatever" and decides to visit his friends. A bit later Shia comes in and realizes she's sick, and get's very pissed and Cassius. "
We then meet Cassius's friends (in a tavern) and they have 'guy talk' and drink. Then Cassius is talking about his employer, and then Lilias chimes in and talks about how slutty she is. Cassius, surprised, gets up behind her slams her into the table and throws her out (her making innuendo all the time). And then he explains that he did not hit a girl, but rather slammed her against a table and threw her. COMPLETELY DIFFERENT. LOL. Sits back down, has another drink.
Cassius gets back to Bel-Terre and Shia loses it. Shia is about to banish Cassius when Tina staggers out and clings to Cassius saying, "I made him take me there, It's my own fault I got sick, Cassius wanted to keep me here... *cough* don't blame him, blame me.". Shia tells her to go back to her room. Then apologizes to Cassius. Shia then tells Cassius that growing up he was told racist sexist stuff BLA BLAH BLAH... and that when he met Tina he changed, but when she became queen so young, he had to be everything she'd face from everyone else. Even though she'd hate him, he did what was best for her, no matter how it hurt them both. And that he has no prejudice against Cassius either. "Though your reaction gives her hope that she's not alone, and keeps her going, so consider this, I could be laughing my head off inside because I tricked your 'tiny human brain' ". Cassius is like "..." Shia then tells him to get a sample of Tina's blood so they can make an antidote for what she's sick with, and then go to bed. So he does.
The next day they put the antidote in her tea and then Cassius surprises her, he found her favorite book in human language! She then asks if, since she's memorized it, she says the girls' lines and he does the guys'. He's like "sure" and they read. Basically, from the little excerpts we see in this montage it's like if Shakespeare wrote Twilight. The book is Called "The Vampire Who Loved Me". Hence a horrible line "The who wouldst drink of mine living blood, would thine drink of the love in my heart?" "O how I would feast on thine love." And a few other corny-as-hell lines. They get passionate in the reciting in the love scene in the book, bla bla bla, ending with the end of the book "So Sangre and Zagristi shall live in the ever looming darkness -- Evermore." . They giggle, say goodnight, and Tina falls asleep. The next time we see them (a few days later I guess) Tina has made breakfast for Cassius. Cassius is touched, the first thing she does when she's better is cook something for him (she's trying to prove that she'd be a good wife). After they eat Cassius decides he going to take Tina out to eat lunch. Guess where? The tavern. So they go, talk, bla bla bla. Tina remembers what Shia said before she left,"Silken is under attack again, if they take it... Just if there's anything you want to do... You might wanna do it." bla bla bla.
The tavern is part of an inn so When Cassius and Tina get there Tina smiles and says "how forward", Cassius is like "The tavern, not a room!" "R-i-i-i-i-i-i-i-i-ght..." Tina replies sassily. ' The Guys ' are like " Hey didn't expect you back so so- ooooooooooooOOOOOOOOOOOOoooooooooooooooon" (they like Tina). Cassius introduces her to the guys Shady (nick name because he wears an eye patch), Aaron, and Will. They talk and hit on her for a while until Aaron realizes that Tina is the elf princess Tina, and screams and apologizes. Tina tries to explain that she liked being just another girl. They don't get it. She say's something dirty to get them to understand that she's a normal person 'like them' and then they go back to where they were. Cassius buys her a drink when she informs him she's never had beer before. He describes it as strong tea. Tina loves super strong tea. She goes from happy smiley to a WTF face to gasping for air saying "Not to sound ungrateful, but it tastes like water sitting in a barrel with wheat for a LONG time. They guys LOL and then Shady asks if she could do some 'elf magic' so she lights a candle across the room they all (except Cassius) are like holy crap that's cool! do it again! Tina then think-boxes "bla bla bla he knew that something was bothering me, and he wanted to cheer me up, aww blA BLA BLA... THANKS bla bla." Lilias then shows up to plea to Cassius once more and embarrasses Tina by saying "You Pinkies (racial slang for light elfs) say you worship life, all you really care about is sex! All She wants from you Cassius is for you to blow your seeds into her pubic cavity". Tina then points out that Lilias is the one following him asking for "His pleasures". Tina get's in her face and says she doesn't want his love, she wants "a sick perverted --- BAD ROMANCE!" She tells Lilias that they almost "rolled through the pasture of love" and then Lilias is like "I'll rip yer uterus out b****!!!" They fight Cassius remembers that it's best not interfere when girls fight, and then Lilias says to him (holding Tina to the floor) "Come on! Let us be merry! The rhythm of the earth is enticing me to ride on your-" Thwack!! Tina punches her off. Lilias kicks Tina in the abdomen and Tina says
and home-run hits her out the door. Tina's saddened, what if unconsciously that really is true? Cassius comforts her and then they go back to eating. They say good-bye, walk home, flirt, Tina showers, she prays, Cassius watches her pray, Shia explains what she's praying about, they go to sleep.
Next mornin'. Tina's in a great mood, then Shia calls her aside, Shia embraces her, and hands her a scroll, she reads drops it and cries. Cassius finds it, reads it, "WE'RE ALL GONNA DIE", he grabs her, gets closer, closer so close- okay not that close, they kiss (really corny line, see my DA for the kiss drawing
http://fav.me/d37prpj
), then he decides he'll try to get to Zane and fight 1-on-1. Tina says "I'm coming with you!", they argue, they reason, she goes. She takes him to meet Ichi, a unicorn. Unicorns are apparently fast than normal horses? anyway... They ride, they talk, Tina's "eager", Cassius is hesitant, FLASH BACK!!! He committed to having sex with Luna, they never did, but he feels that he'd be betraying her if he did. ( FB OVER) He keeps that to himself, and Tina is put out with him. "Do you not love me? We're probably gonna DIE tomorrow. I want to give you my pain." "yer pain?" "my first Lovin'? I want you to have that. Why kiss me like that if you don't love me?" Cassius say nothing. Tina thinks "Doesn't he understand? I don't want him to die without knowing how much I love him..."
Next day, they ride, talk then a dragon eats Ichi, and they mourn, and carry-on on foot to the Mortus Swamps at which the center is where Zane is. Tina figures that since Dark Elfs draw on death for power, this must be how he got so strong. Then Jem's ghost shows up, demands Tina be taken home, and then attacks Cassius. Cassius stabs him? yup... Stabs a ghost.... Thick ectoplasm I guess. Tina uses Spirit crush putting Jem's spirit a peace and allows him to become a true afterlife spirit. They go into Zane's hideout, see a gun (the humans have muskets/pistols but elfs' sensitive ears make guns not a great weapon for them") this is like a gun we from now would recognize. A nuclear missile (Tina)"a giant bullet, which is so powerful 17 could destroy the world." (Cassius) "Or did.." "Masa- mesa- miso- moon eh?" (Zane) "Masamune, the last survivor... The greatest swords ever made... Allow me to show you it's superiority!" Zane grabs it and tosses it, Zana leaps down from somewhere grabs it mid-air, and draws against Cassius. They fight a bit, Cassius pries Zana's chest plate loose, stabs her, then Tina and him approach Zane. Zane gives a speech on how he's not evil, but he is 'right'. Then Tina say's "You murdering B******, you killed my parents!" He then explains that he was with Tina's mom and that she got pregnant and then Zane went off visiting his dying brother, and that there were rumors he was killed. Tira (Tina's mom), bodyguard to Prince Aura then excepted Aura's solution of marrying him to avoid being an outcast (labeled a slut). Sometime later Tina's born, she was said to be premature to cover the time difference. Zane came back sometime before she was born, after she'd remarried. So, they decided that when she was 10 they'd tell her everything and let her choose. They didn't. Around her 12th birthday Zane had had enough and barged into the king/queens room and demanded they tell her, Aura attacked Zana, and Zane killed him in self-defense, Tira then jumped up and accidentally slit her throat on Zane's knife. Zane then had no choice but to flee, but he decided to take Tina with him. Turns toward Cassius, "But then you had to get in the way.". Zane asks Tina, "Will you not be my daughter now that you understand?" Holding her under her chin (sensory glands, very nerve filed, for pain, or pleasure, often caressed during 'intimacy'). She then spits in his face "I could never be your daughter... (you) monster!" He then scraps her chin with his finger nails, and draws his sword as Cassius attacks him. "So be it!! Expect!! -- no mercy...". In my mind he also calls her the C-word, but in can't put that in the comic) They fight bla bla bla, Zane jumps on Tina and shoves her fingers under her chest plate/ribs, Cassius gets him off, they fight more, finally they do like a samurai draw, Zane loses his head and Cassius - his spleen. Zana then calls for Cassius... Tina walks away giving them privacy. "Cassius...Thank you... For freeing me... From this... twisted... melted body..." Then Zana, Luna dies. Cassius grieves a bit then joins Tina again, "Cassius? I think I can blow this place to smithereens." "how?" "A really big Spirit Crush'll destroy all the black magic in this place... It'll then just kinda collapse." Hm... Okay, why not do that before we fought?" He blocked my stronger spells." "oh." She does, and then they run for it. After a day of walking Tina collapses, her wounded chest is bleeding a ton and her guts are starting to fall out, Cassius then falls to her as he's dying too. Neither can go on. Tina's out of magic because she used so much on that Spirit Crush spell... She can't heal herself. "Even if I could... I'd heal you..." "well then... Cu-ra!" "No Cassius! It's forbidden! Gia'll kill you if you try!" "De" "Cassius! No! It won't work!" "Tine'sha! ---UGH!" "Cassius!!!" She's healing and she jumps up to catch him but he fades away as he hits the ground." She cries (duh), and screams sorta like the epic 'my gawd!!! WHY THE H***!!!!????? ' "UGH!!!!!" Huddles up, buries her face in her knees, and cries more... Until a few days later Titus finds her. She then 'feels Cassius', and gets Titus to take her to the Pools of Gia. "(The Pools of Gia are said to have been the first spring drinkable after the world was burnt..but... there was that legend....)"
Shia to Titus, "Is she still in there?" "yup" "devoted..." "she's going to kill herself if she doesn't let go, or eat soon." "I know..." Worms eye view of Jem and Luna in the 'Nether World', "hm... She's going after that legend?" "I guess Luna" " 'Her lover lost, she wept... And with the purest tears, from the bottom of her heart, she prayed. Gia realizing the circumstances, gave him back to her.' I didn't think that story was true." "Tina does.". Back to Tina, speaking elfin gibberish, back to the dead ones. "oh my Gia?! Hm..." Cassius waking, seeing Luna and Jem, "wha-...?" "She's calling you Cassius...Go to her... Gia doesn't want you yet." "But?" "Give her... All the love, and everything you gave to me... Please...". Jem "And take care off her... or else! (smiles)" They fade off. Real world. Tina having run out of fluid can't cry anymore, "I guess... you aren't coming back..." Cassius bursts through the water, he turn around the jumps in and hugs him, smothers him, and they laugh and giggle and kiss. Shia and Titus decide to leave and give them privacy. Later Tina's brushing her hair, they talk, Shia comes in to inform Tina that everyone's aware that she's going to make a speech in the morning. They talk a bit more, and Cassius leaves and they sleep. Next day Tina gets out on a balcony and 'speeches' , bla bla war is over, bla bla bla unity, bla bla bla tolerance, "And... One last thing... (turns toward Cassius) I ask my knight Cassius, if he would ask my hand in marriage." Cassius is like "WHA?" "well?" Cassius *gulp* *nods* they hug, people cheer.
They decided to have their wedding on Earth Day (which for them is like our Xmas). They say their stuff, "does anyone object?" "WAIT!!!!!" Tina and Cassius turn, Lilias "You can't marry her! You can't!! I LOVE YOU!!!!" Cassius," LEAVE ME BE!!!!!!" Lilias turns and walks away sobbing. They finish the wedding with a kiss, people cheer, reception montage... Cassius carries Tina into their bedroom. He goes into the bathroom to get his armor off, she undoes the spaghetti straps on her wedding dress, it falls down, she sits naked on the bed (back view) and waits for Cassius. (cheesy monologue starts) he's having trouble getting his clothes off and is cursing up a storm, Tina laughs. He comes out (waist up), she lays down, he gets onto the bed, she looks down at her chest (eve hair) and signals a "you like?" look. He giggles and points to her head as to say, "I love you for what's in here" (Originally he was going to point at her heart, but that's to close to her chest to not get too much boob in the 'shot'.). He gets on top, the kiss a bit, but... it's not really... connecting (elfin anatomy is a bit different, private parts are no exception, during one of their talks she references that "hey, some things are different, bigger, smaller, thicker thinner.." so...) She asks for him to hold on, for the story's sake I skip the explicit detail, she's on top, makes a pain face, Cassius's like "you okay? We can stop" She's like "no... I'm okay... now... let's..." they make out., the end. Oh, that monologue i just "bla bla bla fulfillment, bla bla bla innocent lusts, "and, as mother once told me, "Love above all else is Gia's greatest gift." (that goes with the last panel)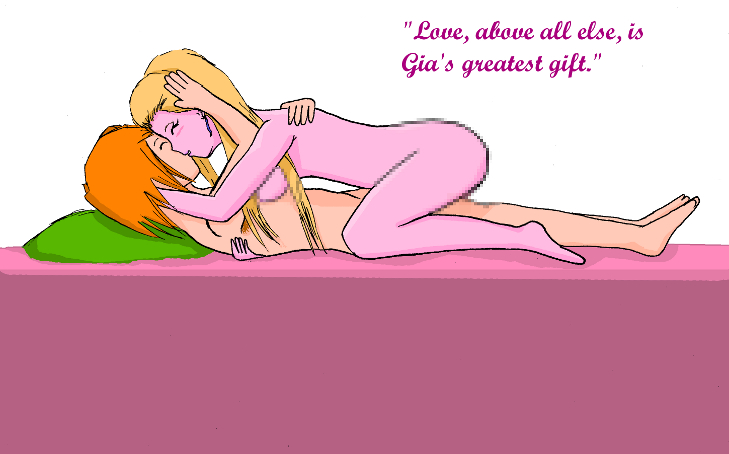 (promo pic)
Tell me what you think. This is still cut down a bit, but it's too long as it is.
I don't have The Sims 3 yet, I plan on getting it eventually.